Plan your visit
Plan your visit to Tirpitz
Tirpitz is an experience for the whole family. The Danish architectural firm BIG has created the spectacular setting for an attraction hidden under the sand in the protected dune landscape at Blåvand.
Practical information
A successful museum visit starts from home. Where do we park? What about the dog? Can we get something to eat? Find the answers here.
Directions
Tirpitzvej 1
6857 Blåvand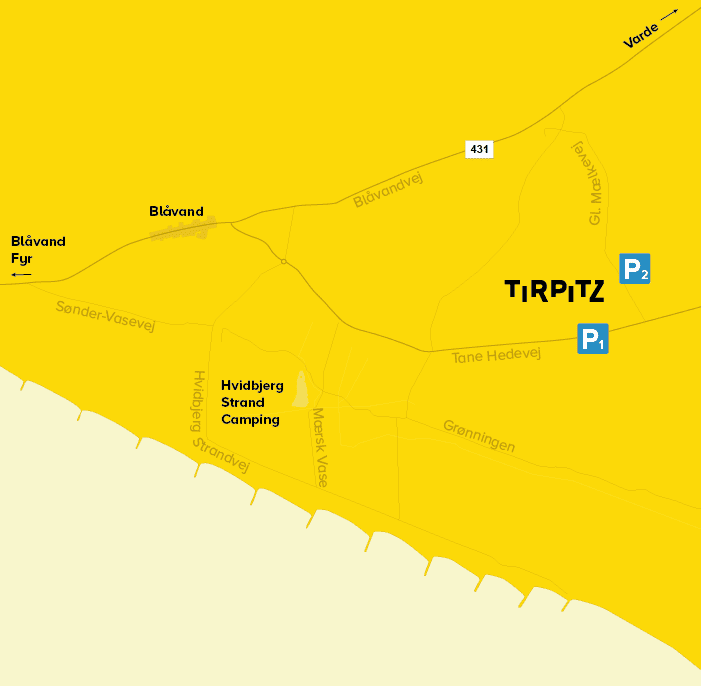 Parking
Free parking.
P1: 80 parking spaces, incl. handicap parking, at Tane Hedevej in front of the museum. This parking lot is reserved for guests with walking difficulties.
P2: 300+ parking spaces. Entrance from Gl. Mælkevej is clearly marked with signposts. From P2 there is an approx. 240 meter walk to Tirpitz along a beautiful footpath through the dunes. We ask that our guests please follow the marked path and not walk through the summer residence area.
Please also note that stopping and parking is prohibited along Tane Hedevej. Parking fines are at least 510 DKK.
There is a bus parking space west of P1. This parking lot is for coaches only, and is intended for disembarking and boarding. Buses are parked on P2.
We are working to improve the parking conditions, but as the area is a nature reserve, it takes time. We appreciate your understanding.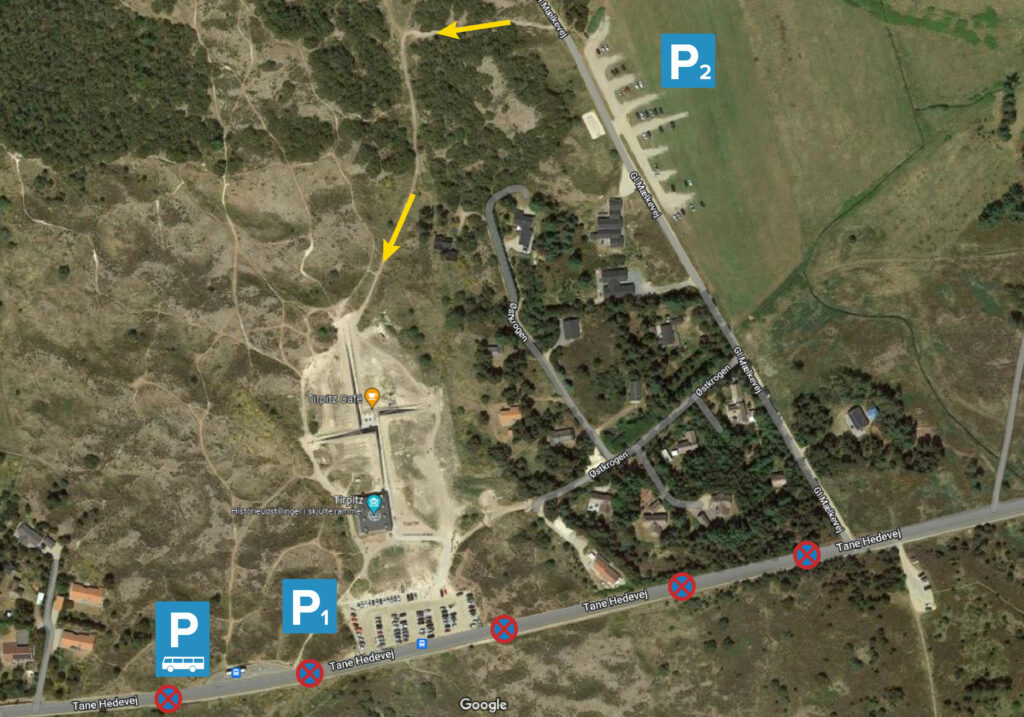 Accessibility
The museum is inclusive and accessible to everyone.
All audio in Tirpitz is voiced by actors in Danish, German and English. There are no texts to read – but the audio tracks are available in writing for the hearing impaired.
Handicap parking is available at P1. A concrete path goes through the dunes from the car park to the entrance. There is an elevator near the ticket counter, and toilets for the disabled both at the café and on the  exhibition level. Wheelchairs and walkers are very welcome!
The bunker
Access to the bunker is through the museum. NOTE: The bunker does not comply with the usual requirements for handicap friendliness, given that it was built in 1945 as a gun bunker. But, with assistance, most people will be able to get around at the lower level.
Dogs
Guide dogs and service dogs are welcome in Tirpitz.
All other dogs must wait outside, where you will find outdoor dog crates size XL in the shade. Bowls and fresh water is available for the dog. It is the owner's responsibility that the dog is comfortable during its stay in the crate.
Cloak room
Free lockers available. No keys or coins needed. Just enter your own code – the challenge is that you have to remember the code until you come back.
Audioguide
With the assistance of an audio-based guide, you control your own personal experience in the exhibitions in Tirpitz. All stories have been recorded by professional actors in three languages: Danish, English and German. You will not get the full experience of the exhibitions without the audioguide. It is included in the price of admission and children from about two years of age can use it. It may be a good idea to bring your own headphones if you prefer to have your hans free. Headphones can also be purchased in the museum shop. If you are hearing impaired or just prefer text, please inform the host when you buy your ticket.
Food and drink
Tirpitz serves great, family-friendly dishes at reasonable prices. When the weather is warm, you can enjoy coffee and cake in the beautiful courtyard.
Please do not bring your own food and drink into the Tirpitz café or central courtyard. You are welcome to use the outdoor tables and benches near the bunker for picnics.
Unfortunately we cannot offer table reservations for small groups.
Shop
Home decor, a great book about World War II or a beautiful item of amber jewellery as a souvenir of your holiday by the sea. Treat yourself to a visit to the Tirpitz museum shop.
In the shop you will find handmade design, locally produced delicacies, soft textiles, exclusive amber jewellery, souvenirs and books, where you can learn even more about the stories we tell in Tirpitz.
Guide
Choose from short introductory tours, in-depth guided tours, or tours that provide insight into, and great views of the dune landscape surrounding Tirpitz.
To book a guide, please call +45 75 22 08 77 well in advance of your visit.
Groups
OBS! Unfortunately, we are unable to receive groups during peek season, 1 – 31 July 2023.
We highly recommend that groups of more than 20 people book their visit by contacting the Varde Museums' main office. Please plan with a realistic schedule and arrive at the booked time – if you arrive late, it may be difficult to find space for your group in the exhibition.
Please plan your visit outside weekends, peek season, holidays and public holidays. Please arrive well in advance of the announced time. Waiting time must be expected if the visit has not been announced.
Please advise us of your visit well in advance – regardless of whether you want to book a guide or not. This is done by contacting the Varde Museums' main office:
Phone.: +45 75 22 08 77
e-mail: vam@vardemuseum.dk
Open
Monday-Thursday 8am-4pm
Friday 8am-1pm
We look forward to your visit!
Especially for Children
The exhibitions
In the exhibition West Coast Stories, you have to use your hands – but do you have the courage to stick your hands into the unknown and feel for what is hidden in the secret places?
In the exhibition Army of Concrete, find Astri's bunker, where the story of bunker construction is told at children's level. Also find the hidden room in the middle of the exhibition – it's only for children.
In the exhibition Gold of the West Coast you will find a chest of costumes, so that you can dress appropriately for the big amber hunt.
The special exhibition The last Mammoth – the first Human is aimed especially at children aged 5-12.
Treasure hunting for both young and old
– When you get your wristband in Tirpitz, ask the host for a leaflet, which you can use to explore the exhibitions. You must use your eyes well in order to solve the tasks.
Nature detective
– You can also get a Nature Detective leaflet, which you can take outside. Compete against each other in your family. Who finds the flower first? Who can see the most birds? Etc. etc.
Both mom and dad have access to changing facilities. Prams and strollers are welcome in Tirpitz.
Schools
Admission is free for schools and institutions - book your visit in advance at the museum administration. We offer exciting courses for schools, institutions and educational institutions. Explore our programs here.
Great food at reasonable prices
In the Tirpitz Café you will find a varied selection of delicious lunch dishes based on seasonal and regional products. We hold a Silver Label for Organic Cuisine, and find most of our products locally – to better serve our guests and the environment.
You will also find organic beer, softdrinks and ice cream. The food can be enjoyed in the café or outside in the courtyard. The kitchen closes one hour before the museum.
Fresh local ingredients
Sustainability and organic ingredients in focus
The food can be enjoyed outside in the courtyard
Tirpitz
Day pass
Audio guide for the exhibitions
Children under 18, free of charge when accompanied by an adult
Tirpitz
Yearly pass
Entry to Tirpitz for a full year
Audio guide for the exhibitions
10% discount on purchases in the museum shop
The yearly pass is personal
Upgrade your day pass
Buy at the museum
Tirpitz
Weekly pass
Entry to all Varde Museums
Pass is good for 7 days starting on the day of purchase
Upgrade your day pass
Buy at the museum
for
the holidays